Boss Design

Bosses are used for the purpose of registration of mating parts or for attaching fasteners such as screws or accepting threaded inserts (molded-in, press-fitted, ultrasonically or thermally inserted).

The wall thicknesses should be less than 60 % of nominal wall to minimize sinking. However, if the boss is not in a visible area, then the wall thickness can be increased to allow for increased stresses imposed by self-tapping screws.

The base radius should be a minimum of 0.25 x thickness
The boss can be strengthened by gussets at the base, and by attaching it to nearby walls with connecting ribs.
Hoop stresses are imposed on the boss walls by press fitting or otherwise inserting inserts.
The maximum insertion (or withdrawl) force Fmaxand the maximum hoop stress, ocurring at the inner diameter of the boss, smax is given by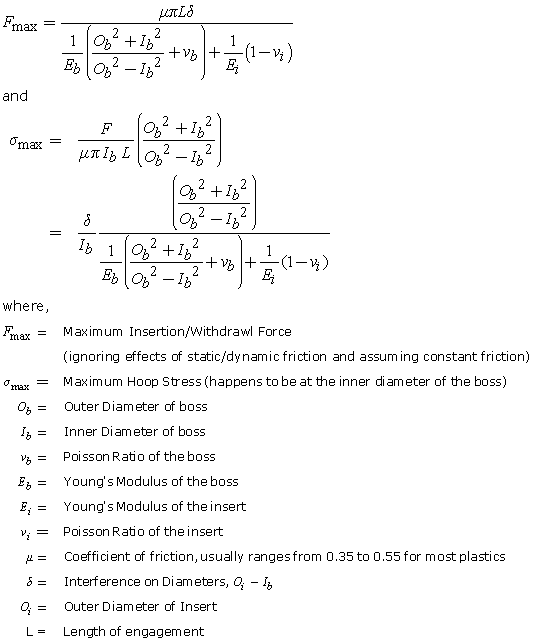 Failures of a boss are usually attributable to:
High hoop stresses caused because of too much interference of the internal diameter with the insert (or screw).
Knit lines -these are cold lines of flow meeting at the boss from opposite sides, causing weak bonds. These can split easily when stress is applied.
Knit lines should be relocated away from the boss, if possible. If not possible, then a supporting gusset should be added near the knit line.