Unlike most LCDs which are difficult to read in bright sunlight, the NCAPTM Plastic Liquid Crystal Display (Polymeric LCD) actually gets easier to read in brighter light (just like a piece of paper).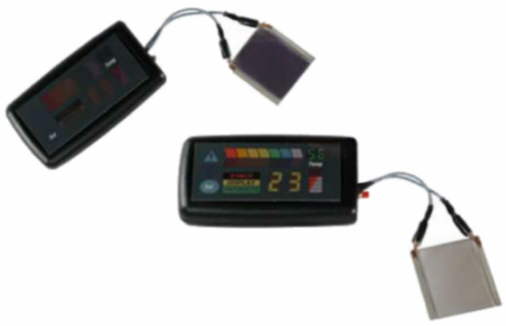 For informational displays with many separately controlled segments (such as a digital clock), each part of the liquid crystal panel can selectively be turned 'on.' Furthermore, the amount of translucency is proportional to the voltage applied.

The heart of the NCAPTM technology is the liquid crystal cell. Normally this cell is black, allowing almost no light through. But when a current passes through it, instantly it turns transparent. Behind this liquid crystal cell is a colored reflective pattern. When the cell turns transparent, the colored print beneath shows through.

NCAPTM plastic displays can be directly applied to where clear, bright displays / control panels are needed such as
Information displays
Automobiles
Gaming machines
Household appliances (e.g., microwave oven)
Biomedical instruments or other instrumentation
Point of sale
Some potential applications for applying the NCAPTM LCD cell include
Exhibit displays, billboards, schedule boards
Ski goggles, sunglasses
Automotive windows, portable sun shade / umbrella
Telephone booth, changing room, office window / surgery room, hide home entertainment center
Peek through oven window, transparent drawers / kitchen cabinets for easy searching

Common specifications for commercially available NCAPTM plastic displays are listed below:
Dimension

:
Up to 39 inch x 1000 ft (LDC cell itself)
Up to 22 inch x 15 inch (NCAPTM Display)

Color

:
Available in warm yellow, yellow, green, blue, white, orange, and red. However, There are no technical limitations restricting particular colors.

Operating Temperature

:
-20 ~ 85 °C

Storage Temperature

:
-50 ~ 85 °C

Voltage

:
24 ±1.2 V

Frequency

:
50 / 60 Hz (25 ~ 120 Hz)

DC Offset

:
±350 mVdc

Optical Performance

:
Color difference (1976 CIE UCS):
Warm yellow = 73; Red = 106;

Response Time

:
Time on at 25°C = 6 ms; Time off at 25°C = 16 ms
Time on at 0°C = 42 ms; Time off at 0°C = 84 ms

•
Pros:
-
Brighter than common LCD displays
-
Wide uniform 160° viewing angle
-
Thin and flexible construction, curvable
-
Can make large distributed display areas
-
Durable and Reliable (no moving parts)
-
Rugged (monolithic Polymeric construction vs. glass in common LCD)
-
Low power consumption (solid state)
-
Easy to Design, inexpensive customization
•
Cons:
-
More expensive
-
Limited data for outdoor and hazardous environment usages